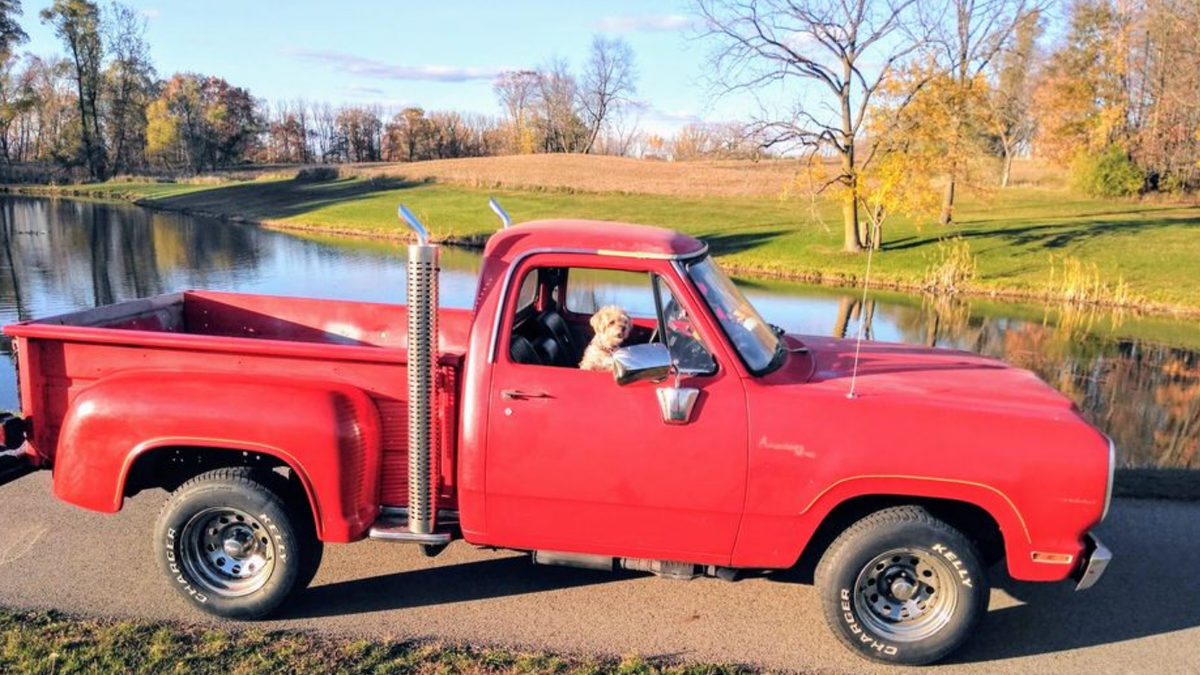 Another week means another entry into our series featuring the sweet cars I found for sale online .
To compile this list, I search as much of Facebook Marketplace and Craigslist as I can for interesting vehicles that don't cost a fortune. They may be hilariously unreliable, remarkably unusual, questionably tuned, or just something that stops me in my tracks. Prices for some cars are trending higher, but I think some good deals are still out there.
2 / 11
1962 Jaguar Mark 2 - $10,500
1962 Jaguar Mark 2 - $10,500
This vintage Jaguar Mark 2 makes you look like an absolute boss no matter where you go. It's powered by a 3.8-liter straight six that is a similar unit to the one found in the Jaguar E-Type with some changes. That engine makes a healthy 220 HP and you get to pilot it from a gorgeous interior.
Of course, this old Jag has a few issues that need to be taken care of. The seller notes that the engine has a tick and none of the rear lights work. Its tach also doesn't work, and the leather inside has some cracks. It's $ 10,500 on Facebook Marketplace in Newburyport, Massachusetts with 41,700 miles.
3 / 11
2008 Chevrolet HHR SS - $4,900
2008 Chevrolet HHR SS - $4,900
This car may be a little out there, but hear me out. The HHR made a recent appearance on an Answers Of The Day as a vehicle that should be erased, but I don't think the little thing is getting a fair shake . The HHR not only has ample usable interior space (I've used one as a mini camper last winter) but it also has a silly hot version.
The SS version got a 2.0-liter turbo four making 260 HP and 250 lb-ft torque. Yep, that's the same performance engine from the Cobalt, but mounted into a retro hatch with a manual transmission. It's the car you'd least expect to be sort of a sleeper.
This one is $ 4,900 on Facebook Marketplace in Alto, Michigan.
4 / 11
1962 Oldsmobile Starfire - $14,750
1962 Oldsmobile Starfire - $14,750
This classic car looks like it could rocket off into the atmosphere at any moment. The Starfire was meant to compete in what was then a hot personal luxury coupe market. Aside from its space age looks it had a 6.5-liter V8 churning out 345 HP and a big, comfortable interior.
This example is noted for being an Oklahoma car with original paint and a new engine. It's said to run and drive and is $ 14,750 on Facebook Marketplace in Windom, Minnesota.
5 / 11
1991 Volkswagen Golf Country - $13,500
1991 Volkswagen Golf Country - $13,500
The Volkswagen Golf Country is a rare car in the U.S. on account of the fact that it was never officially sold here. The story goes that Volkswagen rolled up to the 1989 Geneva Motor Show with its Montana concept. The public response was so positive that VW put it into production, having Steyr-Daimler-Puch give it an AWD system. It also got a raised suspension, underbody protection, a spare wheel carrier, bumper bars and who can forget, rad graphics. VW says that these things have 438 unique parts over a regular Golf Syncro.
This cute off-roader is on Facebook Marketplace for $ 13,500 in Newington, New Hampshire.
6 / 11
1968 Gilera 106SS - $1,800
1968 Gilera 106SS - $1,800
Italian marque Gilera has a rich history taking home many motorcycling wins in the 500cc World Championship throughout the 1950s, reports Silodrome. Its motorcycles have even appeared at the Isle of Man TT a couple of times. In the 1960s, Sears Roebuck began importing Gilera's 106SS to America targeting young riders with its nineHP power and 60 mph top speed.
This seller is giving you a package deal. Buy the running 106SS and get a second non-runner for free. You also get two clean titles and a service manual. Thankfully, they're pretty far away or else I'd be grabbing them myself. They're $ 1,800 on Facebook Marketplace in Minneapolis, Minnesota.
7 / 11
1995 Boss Hoss BHC-3 - $10,500
1995 Boss Hoss BHC-3 - $10,500
If you want the baddest, most ridiculous motorcycle of them all, look no further than Boss Hoss Cycles. As the picture shows, this Boss Hoss is housing a 350 cubic-inch V8 in its frame from a Chevrolet Corvette. This thing has so much girth that its eight gallon fuel tank houses a dashboard of gauges. I've ridden one of these before, and it's amazing how easy they are to ride. Most of the weight is down low, and balancing it feels a lot like keeping a heavy Harley upright.
That V8 makes 355 HP, which is healthy for a car, let alone a motorcycle. It's $ 10,500 on Facebook Marketplace in Sauk Centre, Minnesota.
8 / 11
1979 Dodge Li'l Red Express - $12,500
1979 Dodge Li'l Red Express - $12,500
This week's enthusiast car is for our truck guys, and do I have a treat for you. The Dodge Li'l Red Express was a product of the time when emissions controls choked out the horsepower of America's muscle cars. But those same emissions controls didn't impact trucks. Enter the Dodge Li'l Red Express . This truck was basically a muscle car wearing the body of the truck, and that made it America's fastest car. It has a version of Chrysler's 5.9-liter police interceptor V8 making 225 HP.
This one is said to be in original condition, but it appears to be missing the sweet door decals and it doesn't have wood on its bed. The seller says that it comes with extra parts, including wood for the bed. It's $ 12,500 on Facebook Marketplace in Angola, Indiana.
9 / 11
1994 Nissan Homy Limousine - $8,500
1994 Nissan Homy Limousine - $8,500
The Nissan Homy Limousine is a luxury way to enjoy JDM van life. It has dual-zone climate control and swivel seats in the back that can also turn into a bed. Those rear seat passengers also get a huge moonroof while those up front get a pop-open sunroof. Power is provided by a Nissan VG30E V6, an engine that can be found powering other Nissans like the Maxima, 200SX and Hardbody pickup.
It's $ 8,500 on Facebook Marketplace in Friendswood, Texas.
10 / 11
2012 Smart Fortwo - $10,000
2012 Smart Fortwo - $10,000
If this little car looks familiar, it's because it was built by Gotham Garage on the Netflix show Car Masters: Rags to Riches . The car, named Grape Digger and built for the Doffo Winery in Temecula, California started life as a matte green 2012 Smart Fortwo Passion Coupe. Then, Gotham Garage gave it an exoskeleton, a custom lifted suspension and big off-road tires. I find a Smart to be decent off-road when just given good tires; a build like this must be a ball in the dirt.
The car has left the winery since then and is now in the hands of the Cafe Racer coffee shop. It looks unchanged since its time on Netflix and the seller wants $ 10,000 for it on Facebook Marketplace in Anaheim, California.
H/T - Keith!
That's it for this week! Have you purchased a car from one of these posts? If so, I want to know.
If you know of a weird car for sale on Facebook Marketplace or Craigslist, drop it down in the comments or send it along in an email! If the car's still for sale, we may feature it in a future post.